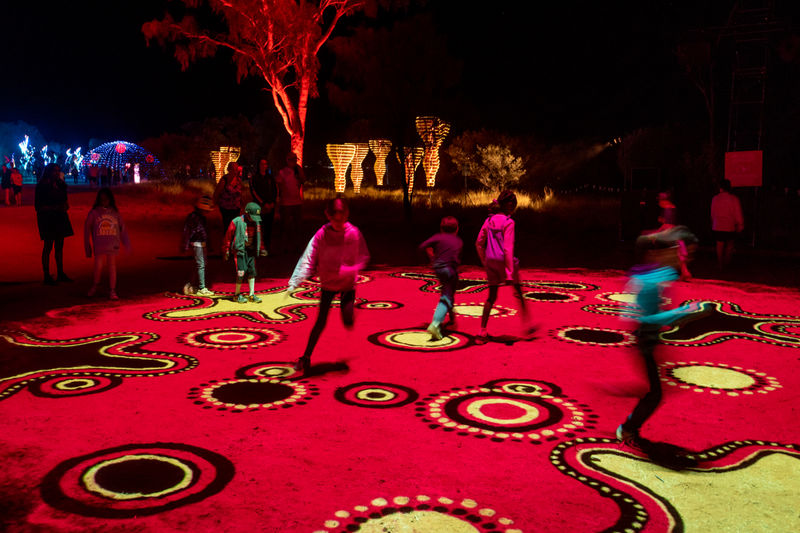 The Northern Territory's world-class events have been recognised across Australia and the world, with Northern Territory Major Events Company (NTMEC) taking out a sweep of awards this year.
NTMEC is the peak body for events in the Northern Territory, and took out three accolades at the 2022 Australian Event Awards. BASSINTHEGRASS Music Festival was named the Best Cultural, Arts or Music Event, and Parrtjima – A Festival in Light took out the Best Achievement in Marketing or Communication and Best Community Event awards. Both are delivered by NTMEC. Alice Springs Beanie Festival, supported by NTMEC, was a runner-up in the Community Event category. Held in Sydney on Wednesday, 23 November, the Australian Event Awards recognise outstanding achievements across in nation's events industry.
NTMEC is also celebrating global recognition after placing at number nine in the international Eventex Index: The Top 100 Event Organisers and Agencies for 2022. NTMEC was the only Australian company to make the Top 10, and one of only three to make the Top 100. The list recognises excellence in the international events industry over the last three years.
The listing comes on the back of NTMEC taking out seven awards at the global Eventex Awards earlier this year. Parrtjima – A Festival in Light received six awards, and BASSINTHEGRASS Music Festival received one.
BASSINTHEGRASS also received a 'Highly Commended' in the 'Excellence in Supporting Inclusion and Participation' category as part of this year's Northern Territory Disability Services Awards held earlier this month. NTMEC is proud to work with Carpentaria, a not-for-profit organisation providing disability and therapy services, across its portfolio of events to improve the experience for people with a disability.