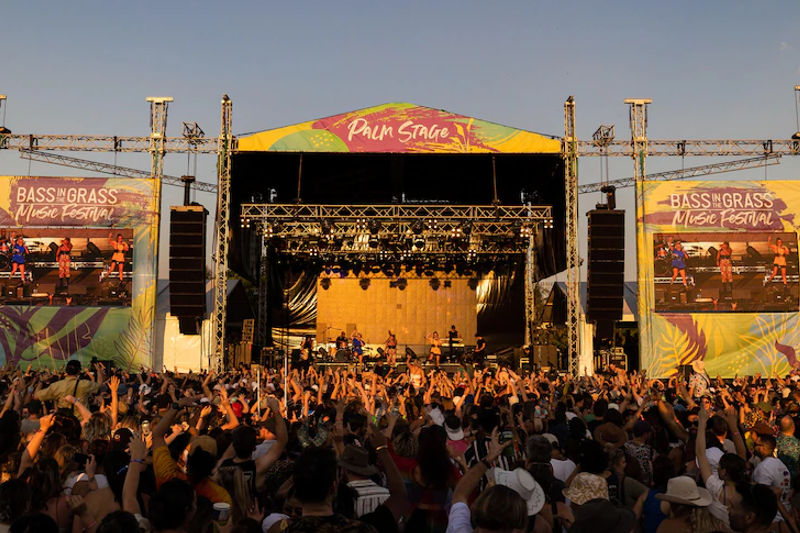 It's the news music fans across the nation have been waiting for - the 2023 BASSINTHEGRASS Music Festival line-up has been released, and some of Australia's biggest names are on the bill!
After another record-breaking year in 2022, the Territory's biggest and best all-ages music festival returns to Darwin's iconic Mindil Beach on Saturday, 20 May, 2023, with the below artists set to take to the stage (in alphabetical order):
Amy Shark
Angus & Julia Stone
Babe Rainbow
Baker Boy
Guy Sebastian
Hooligan Hefs
Jack Botts
L D R U
MAY-A
Ocean Alley
Peach PRC
The Presets
San Cisco
Spacey Jane
Steph Strings
Tones and I
After a sell-out event in 2022 that attracted almost 16,000 people from across Australia, BASSINTHEGRASS has become a must-do on the national music festival calendar. Aussie music phenomenon Tones and I said she loves the Top End.
"I'm really looking forward to getting back to Darwin after playing New Year's Eve 2020. It was a great memory and I loved the city," she said.
Guy Sebastian said he can't wait to head north to take part.
"I am so stoked to be heading up to Darwin to play live with my band at BASSINTHEGRASS. I love heading to the NT – the vibe up there is always electric, and the energy I get from everyone up north always leaves me and the band buzzing with how much they love music and life. See you next year, legends!" he said.
Delivered by Northern Territory Major Events Company (NTMEC) on behalf of the Northern Territory Government, BASSINTHEGRASS continues to evolve each year.