Forbes has recently been espousing the importance of authenticity in connecting brands and customers "in the moment"; while they're searching, sharing, discovering or buying.
Similarly the principles of data journalism, and its application for brands, are inherently anchored in authenticity, starting with the practical but critical step of examining data quality to ensure its integrity before the pursuit of insight and storytelling gets underway.
As The Guardian's Datablog tagline has it, Facts are Sacred, but it's not only media outlets that recognise the importance of being trusted data hubs.  
Increasingly brands are leveraging proprietary data to strategically move their PR from a position of "attention" to "trust" by revealing intriguing stories about their own categories and consumers, often overlaid with other datasets for broader contextual relevance and unexpected correlations.
But if data journalism's relatively new to you, where to start without feeling as if you're wading through treacle?
Hey! Ho! Let's Go
As Twitter Data Editor Simon Rogers notes, data journalism is a bit like punk music. Anyone can do it. With free tools like Google Fusion Tables, Many Eyes and Tableau, you can start exploring data and generating your own brand of DIY journalism immediately. And the very act of learning as you go is as authentic as punk itself.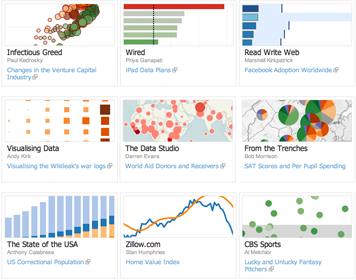 Let your audience show you the way
You may already know what will resonate with your intended audience and where your brand fits into the storytelling, but data journalism's authenticity also comes from taking a neutral stance and where possible reporting on the full consumer experience, not just what your brand answers to. So what's occupying their hearts and minds, whether current affairs or calendar events? And if you don't know, ask them and start exploring the possible intersections for your brand.
Think like a journalist, not an analyst
Despite the fact you're often working with spreadsheets, the importance lies in interrogating the data as a storyteller rather than number cruncher. What's new and interesting in the numbers?  What's perplexing and unexpected? What would happen if you mashed your dataset with another? A journalistic approach to the data is likely to unearth more compelling stories, which makes for stickier content.
Light and easy does it too
Given its application by media outlets in holding both government and private sectors accountable, data journalism can seem like serious business, but it can also have its playful side. According to easel.ly, some of the most shared content has been on everything from the evolution of Halloween costume preferences to which smartphone user is enjoying the most sex (incidentally it's iPhone). Even The Guardian's charted every Dr Who villain since 1963.
Seeing is believing
While data journalism doesn't necessitate visualisation, it certainly lends itself to it because it helps make complex themes simple to understand, because as a Stanford University study demonstrates, half of our brains are hardwired for visuals.  That doesn't mean they need to be expensively produced. Some of the most shared infographics according to easel.ly's wrap-up of 2013's most 30 most viral infographics, like the Halloween example above, are simple vector-based graphics and process charts.
'Comment is free, but facts are sacred' is the long form version of The Guardian's tagline, which originates from its founding editor in 1921.  But ironically it may be the world's first advertising trademark, 'Truth Well Told', registered by McCann-Erickson nine years earlier that feels more like the real thing as far as data journalism's pursuit of authentic storytelling is concerned.
Lucia Elliott is Principal of Creighton Ward.  
She studied data journalism at The Knight Center for Journalism in the Americas (University of Texas) last year.
comments powered by

Disqus
---